I'm a huge fan of beat-them-ups. You lowly peasants may refer to them as "beat-em-ups." However, I am a classy gentleman. So, naturally, I am above such vulgarities as the term "'em". I am a man of leisure and as such I have time to fully pronounce the word. If you do not, please know that I detest you.
If you're going to talk about beat-them-ups, there's only one place to start. Actually, there are probably several, but fuck it, I'm starting with Double Dragon.
Double Dragon (various systems, 1987, Technos Japan)
If you want to get technical, Renegade (also made by Technos Japan) was the first game in the walk-down-the-street-and-kill-everybody genre, in 1986 (it's also the first game in the legendary Kunio-Kun series, which also included such magnificent games as River City Ransom and Super Dodgeball). However, if I'm going to be perfectly honest, I really don't like that game. I find it repetitive and a bit overly-primitive to really be fun. So yes, it may technically be the first of its genre, but Double Dragon is where things really picked up steam. It took a lot of the mechanics of Renegade and made them smoother. It also added weapons and some totally kick-ass music (0:56 seconds is where the most epic guitar solo in all of video game music begins).
Double Dragon was, of course, extremely popular, and began the "golden age" of beat-em-ups. It was a huge success in the arcade and led to many, many home versions. Ordinarily I try to maintain a standard of journalistic excellence here (stop laughing, goddammit), but I will come right out and say that the Master System version of Double Dragon is by far the best. No other version even comes close. The Master System version didn't use the weird leveling system of the NES version, it featured more on-screen enemies at once as well as a larger variety of enemies, and it even looked better. Just compare the NES version:
To the Master System version:
Seriously, what the fuck is even going on in that first picture? It looks like the bad guy punched Billy's face so hard that it came out of his ass. The Master System version, on the other hand, looks remarkably smooth and bright for its time.
Perhaps the most significant and, frankly, unbelievable difference between the two is that the NES version didn't even have a co-op mode. I found this out many, many years ago, and I still find it unbelievable. Double Dragon is a seminal co-op game, and the NES is possibly the most famously co-op centric console ever. That alone would make the Master System version superior in my book.
Of course, the NES later got River City Ransom, so Sega kinda got fucked there. It's very reminiscent of the Mortal Kombat debacle, when the SNES version of Mortal Kombat 2 made the Genesis version look like shit after Sega spent a year bragging about how their version of the first game had red pixels instead of grey pixels. Nintendo wins. FATALITY.
Score: 7/10
Double Dragon is a lot of fun, especially with another person, but it still feels a little repetitive and primitive when compared to later games in the genre. Without a life bar, it feels like it takes just a little too long to kill enemies, especially toward the end, when the game starts sending wave after wave of enemies after you. This is the same problem that marked early fighting games; there was little to break the monotony. However, the team at Technos being the geniuses they were, the game has various tricks to combat that, even if ultimately this didn't completely fix it. The weapons were a very forward-thinking addition, and helped make the gameplay a little more varied, although the fact that they magically disappear after clearing the screen in the home versions was a little frustrating. The traps in the last two levels also helped, although they were fucking irritating. I must have lost 1000 dragons to that goddammed bridge. And keep in mind, these were double dragons, so that's, like… 2000 dragons.
Captain America and the Avengers (Arcade/SNES/Genesis, 1991, Data East)
I've said many times before that I am an engine that runs solely on nostalgia. While this is true, I rarely get nostalgic feelings from games themselves, because I've kept every game I've ever had (the only game I've ever sold was Metal Combat: Falcon's Revenge, the sequel to Battleclash which I received as a birthday gift, and the only reason I sold it was because I didn't have a Super Scope. And despite that, my inner collector was still threatening to rip a hole in the space time continuum to show me a time where I would own a Super Scope, thus making the sale seem insane), and have played them pretty consistently since I was young. However, occasionally I have such strong memories of a specific time tied a game that playing it always brings me back. Captain America and the Avengers is one of those games.
I'm not sure if this was true everywhere, or just here in Knoxville, but the arcade version of this game was all over the place. Gas stations, grocery stores, skating rinks, even arcades, if you can believe it. And, being that this was in the early 1990s, which I personally consider to be the golden age of arcades (if only because my favorite genres of arcade games, beat-em-ups and fighting games, really came to prominence then, and because I consider the golden age of arcades to be so because of the games, and not the culture around them), there was always a large pool of kids older than me with whom to play. This was good, because it meant I didn't have to be good at the games in order to enjoy them.
Of course, that said, there wasn't anything you could be terribly GOOD at with Captain America and the Avengers, except maybe putting in quarters as fast as possible and tapping the attack button REEEEEALLY fast during the "shooter" sections of the game. In a lot of cases, that sounds like a bad thing, but here, it just works somehow; It's fun as hell to just run around as Cap or Iron Man hucking Coke machines at robots. It also doesn't hurt that CAatA had the worst dialogue in video game history, coupled with the BEST voice acting in gaming history. In most games, "'You cannot escape!' 'You will be the one escaping!'" wouldn't pass for anything decent, much less exciting. But holy shit, with the voice acting? Whatever they're talking about, it becomes the most exciting thing in history. "'YOU CANNOT ESCAPE!!!' 'YOUUUU WILL BE THE ONE ESCAPIIIING!'" Even little minor things like death (well, minor here, since it happens so fucking much) become exciting. When I die, if I don't yell "I… CAN'T… MOOOOOOOOOOVE!", I'm going to be very disappointed with myself. In fact, the only time the game seems bored is, oddly enough, when it's announcing its own name. "Captain America, and… the… Avennnnnngerrrrrrrrr…sh." The voice sounds like Captain America's (and now that I think about it, also Vision's, Iron Man's, Hawkeye's, and pretty much all of the villains) but it's read with all the excitement of a spy who's been captured and is consigned to his fate, drinking his last bottle of liquor before being brought back to be shot in the back of the neck. It's fantastic. The only bad thing I'll say about the dialogue in the game is that the game's best line, "WHY SHOULD IT GOES WELL?" isn't read aloud. When you get to that line in the game, every line around it is read by the voice actors, but it just goes silent there. You kind of expect to hear papers shuffling around followed by "Should I… am I supposed to read that? I don't think that's what it's supposed to say."
Score: 8/10
I'm trying really hard not to let nostalgia color my love of this game. It's hard, but I'm pretty sure this is accurate. CAatA is a really great game. The gameplay manages to stay pretty fresh throughout the whole game, partly due to a myriad of throwable weapons and a couple of horizontal shooter sequences. It never quite gets to the point of feeling like you're just mashing buttons. It keeps the pace of the game going, and allows you to clear groups of enemies quickly enough that it gives you a sense of power without making you feel like you're invincible, which I think is key to the genre.
There are also a lot of little touches that make the game really special, especially for fans of the Marvel mythos. Cameos from all sorts of crazy-ass characters abound, both popular and obscure (The Living Laser? KLAW? I'm surprised they didn't pull out Batroc the Leaper or Turner D. Century), and unlike a lot of licensed games from the era, they really pay attention to the established canon of the stories. No one acts out of character (like in early Batman games where Batman would use guns, or early Spiderman games where Spidey had to murder and eat helpless children for sustenance), and while the storyline doesn't approach the sophistication and moral complexity of comic storylines of the time, it does at least feel like a plausible comic book story. My favorite little touch in the game, though, is one that shows a keen eye for detail and almost certainly an appreciation for the genre. The bosses can be quite difficult, which is typical for arcade games, especially beat-em-ups; after all, that's the best way to keep quarters rolling in without making the game feel unbalanced or too difficult in the actual stages. You expect a boss to be difficult. But the coolest part of the boss fight is when you start to round the last corner and the boss's life bar starts to run out. All of a sudden, your hero yells "OKAY, GO!" and this heroic, triumphant music kicks in. It really makes it feel like an epic battle, and gives you this feeling of being a kid and just really wanting the good guys to win, even though you know they're going to. It sounds stupid, but just watch this video and tell me it's not true (boss fight starts at 2:20, epic music kicks in at 2:35):
FUCK YEAH GO VISION
Streets of Rage 2 (Genesis, 1993, Sega)
STREETS OF FUCKING RAGE 2.
You think you know, but you don't know. You have no idea.
Every once in a while a game dominates its genre to such an extent that it is impossible to extricate the two. With beat-em-ups, it's… well, it's probably Final Fight. But Streets of Rage 2 is the game that has always been near and dear to my own heart. Well, so has Final Fight, as evidenced by the fact that Mike Haggar is the de facto mascot of this site.
But look, just bear with me for a minute. Streets of Rage 2 is fucking incredible. It has the most actively engaging and deepest engine of any beat-em-up I've ever played, which is a big part of why the game is great, but I'll get to that in a minute. What really makes the game special is the incredible atmosphere. There's a unique feeling to the game that is missing in other games in the genre, a feeling of apocalyptic doom hanging in the air as you beat up various palette-swapped rave kids and punk rockers. Even Double Dragon, which is ostensibly about a post-nuclear war society where karate is the only law, starring Chuck Norris as Billy, doesn't have this kind of feeling of dread. It might be that the type of fear that SOR2 plays on is a much more realistic one in this era, a "decline of western civilization" feeling, where society seems to be in such a state of disrepair that gangs just roam the streets in search of random violence for fun (this was present in Final Fight as well, of course, but felt much more cartoonish than it did in SOR2).
Adding to this atmosphere, and possibly even the biggest factor in its existence, is the music. Holy sweet goddamn. I have a tough time picking favorite things, but this soundtrack could easily make it in the running for favorite soundtracks, and favorite music, and just favorite anythings ever. I could really dedicate a whole article to this soundtrack, and probably should, but I'm going to play the arbitrary journalism card here and pretend like I need to keep this relevant to the game. Yuzo Koshiro is a monumentally underrated composer, and this is him at his strongest; the music draws you into the atmosphere of the game like few other soundtracks I've ever heard. One of the most unique things about it is how amazing it is at serving as both standalone music and background ambience. Typically I tend to greatly prefer soundtracks that consist mainly of standalone music that works in the background, but isn't ambient, which is why I tend to find the music for so many newer games like Mass Effect and the Elder Scrolls games boring, but SOR2 has music that builds the atmosphere and excitement of the game without being the most noticeable part, at least at first; it isn't until you start listening to the music by itself that you realize that every single track from the game has permanently imprinted itself in your head.
Score: 10/10
Yes, another ten out of ten. Fuck you, this game deserves it.
It is simply impossible to make a better beat-em-up than Streets of Rage 2. Want proof of this statement? There are not one but two engines that emulate the way SOR2 is played, and despite nearly 20 years of progress, and a shitload of fantastic games with all kinds of new and innovative features, there still isn't a game that has usurped it. Go ahead, go get those games. Spend a few hours playing them, it's worth the time. They're fun. But they're never going to replace SOR2.
So we've already gone over how great the atmosphere is in the game. How does it actually play?
Well, like I said at the beginning of the article, it fucking delivers in the gameplay department too. The reason there are two remakes of the SOR engine and none of the Final Fight engine is because the mechanics of the SOR engine are simply more complex and more fun without being any more difficult to use. Final Fight feels like it was built around the arcade, made not to have any of the complexities that would take a while to learn or, more importantly, allow you to get good enough at the game to beat it without spending a lot of money. SOR2, on the other hand, was built for consoles, made for players to learn and explore, and challenges players by expecting them to get good at the game, rather than throwing herds of enemies and cheap-ass bosses at them (okay, well, there's Jet, but he doesn't count, because fuck him).
Ultimately, if I were asked to pick between Final Fight and Streets of Rage 2? I hate making decisions like that, because come on, I live in the real world, and I can't imagine any bizarre fucking scenario in which I would have to decide between the two. Have I come into possession of the last copies of each game, and my son is dying, and they have to sacrifice one of the games to implant it into his robot body to turn him into a cyborg to save his life? In that case, it's no question: I choose to implant Streets of Rage 2, because then I can have speakers installed in him and have some badass bass-pumpin' beats wherever I go. But in a simple situation in which I had to pick one? I'm not sure I can say, Haggar is looking right at me. But hey, I did write about SOR2 in this article and not Final Fight. Infer from that what you will.
One common complaint about games today is that they don't provide any challenge. Honestly, I don't fully know how I feel about that; on one hand, while many of the major games of this generation, like Halo, where your character is functionally invincible as long as you hide behind a box every once in a while, and God of War, for which you can literally write a one-sentence walkthrough for the entire series ("Hold up and mash the attack button as fast as you can until you hear the ending credits roll."), do seem to offer very little challenge, less mainstream games, such as Super Meat Boy and I Wanna Be the Guy, and even a few of the bigger franchises (most notably Call of Duty, which, while it also has the magically regenerating health of the Halo series, also presents a realistic level of damage from bullets, which makes the regeneration far less of an advantage) offer some pretty difficult experiences. However, the main thing that I've noticed about even the more challenging games of this generation is that most of them focus less on challenge of skill than challenge of perseverance. Essentially, it feels like, no matter how many times you die, you can keep trying again and again until you succeed, usually restarting from 3 seconds before you died.
This is where games today differ from the games of the past; in most games, you got three lives. If you ran out of those, either you could continue (a limited number of times, from the beginning of the stage, if not the entire world), or your ass could go back to the title screen. The only thing close to a "save" we had was when we converted to Christ and baptized our cartridges in holy water in the hopes of God sending His divine army to help us beat Death in Castlevania. Hey, you laugh now, but it worked once. God really sent a legion of angels. We still couldn't beat Death.
So, in the interest of remembering the days when our electronic parent substitutes were still abusive drunks, here are some reviews of a few games that definitely kicked my ass around the block when I was a kid (and still do, for that matter):
Super Ghouls n' Ghosts (SNES, 1991, Capcom)
Super Ghouls n' Ghosts hit the sweet spot between "ball-breakingly difficult" and "dick-yankingly awesome". It's the only game I've ever played that sees me throwing the controller down out of fury, then immediately picking it back up and continuing to play. That's not a joke, either; I really do that. I'll scream "MOTHERFUCKING UNDEAD DICK BISHOP" and throw the controller at the TV, then immediately pick it back up before the next life starts, because hey, I don't want to lose my armor right away. That shit'll get you killed. AGAIN.
A big part of what made the game so hard was just the sheer amount of shit flying at you at once. Within just a few seconds on the first level there are enemies EVERYWHERE. They just come out of the ground. They're unpredictable too; there's no way to know when an enemy is gonna pop up, or if the coffin it comes out of will just pop open or start hovering, or if something's going to fly in from offscreen, or if something behind you threw a projectile, or pretty much anything else. It would be enough to make you check into a hospital for PTSD if it wouldn't be so embarrassing to tell a room full of war veterans and spousal abuse survivors that you're there because the ice level was reeeeeally hard.
To make things worse, this game isn't like most other platformers; when you decide to jump, you goddammed well better make up your mind as to where you want to go, because if you decide midway through to change directions, that's too fucking bad. You jumped left, and god help you, you're GOING left, whether you like it or not.
Probably the most notorious factor making SGnG so difficult, though, is that after finishing all the hard-ass levels in the game, you finally find the princess you're trying to save… who informs you that you have to beat the whole goddamn game AGAIN. And, just in case it wasn't excruciating enough the first time, this time you have to beat it with a shittier weapon, which is apparently the only one that damages the already-fucking-hard final boss. It's like, come on, Capcom. There are easier and faster ways of making people kill themselves.
Score: 9/10
Despite how insane everything about the game is, Super Ghouls n' Ghosts is a fucking stellar game. As far as run-and-gun platformers go, there are few better; as a matter of fact, I would argue that Super C (the NES version of Super Contra) and Metal Slug are the only games that can really give it a run for its money (well, except for Mega Man of course, but as far as I'm concerned NOTHING compares to Mega Man). It has Capcom's legendary attention to balance and solid controls, and the level designs add a lot of variety to the gameplay. What's not to like?
Oh, right. The skull-fucking difficulty level.
Teenage Mutant Ninja Turtles (NES, 1989, Konami)
Pretty much everybody knows about this game and it's outrageous difficulty level, most of which centers around the dam level, and for good reason.
But while that may be the stuff every 7-year-old's nightmares are made of, it's not like the rest of the game is really any easier. There's an imperial shitload of enemies in the game, and just in case there aren't enough, they reload every time you leave the screen, just like a Mega Man game. Some of the enemies take several hits to kill, and have a long period of invincibility after you hit them, so you have to run around and dodge them after you hit them once, waiting until they're vulnerable again. Some of the enemies only take a one-to-two hits to kill. Don't worry, though! They come in swarms, and when I say swarms, I don't mean 3 or 4, I mean like 7 or 8 at a time. Konami was confident that this game was going to sell strictly on the strength of the TMNT license. Most companies choose to coast on that and crank out a really shitty licensed game. Konami, on the other hand, decided to make a game that simply defied the technological limits placed on them by the NES, ignoring the fact that placing fucking 20 enemies on the screen at the same time not only made the game unpleasant to play but also made the game slow to a crawl and flicker constantly. They knew you wanted a TMNT game, and you weren't going to look into what it played like before you bought it. Why not use this opportunity to kill any of the stragglers who survived playing Castlevania?
This game is a unique case for me, though, because there's a specific part that has a particularly memorable challenge that endures in my memory even today. I can progress pretty quickly through most games that I remember being really challenged by as a kid, but TMNT has one section that still raises my hackles anytime I think about it. In fact, I actually hate it more than the underwater portion, even with its turtle-killing electric spaghetti.
Now, I think we can agree that being killed in a video game because you aren't good at it, while frustrating, makes you angry at yourself, and not at the game. That's the rational reaction to have, because you're the one who isn't good enough; that's what keeps you playing. You want to build your skill. That said, I simply cannot jump over this stupid goddamn fucking gap.
At the end of the first part of the Dam level (more like the GODdamN level, amirite), you come to a gap that is situated extremely high up in the level. It isn't very long, but it's just long enough that it becomes very difficult to jump across, because for some reason the Turtles can get fucking airborne in this game. In fact, they can jump from the ground almost to the top platform in the picture above (remember this, because it's important later). You jump so high that even if you just barely tap the A button, you end up hitting the fucking ceiling and falling down the gap.
Now, this wouldn't be a problem if you could just jump back up and continue on. But remember how I said you could jump "almost" to the top platform? Well, over to the right there's an entire half a level, so they couldn't let you jump all the way up there. And if you miss this ridiculously hard to accomplish jump? You have to do the WHOLE GODDAMN AREA AGAIN. Oh, and for extra credit: what did I say happened to enemies that you killed previously? If you said "they stay dead and don't come back", then, well, you just failed this extended metaphor I've carried on way too far. In fact, I would wager you're being a smartass and deliberately saying the opposite of the correct answer to be funny. That's not funny. Just like this test metaphor.
Score: 7/10
For some reason a lot of people knock this game these days. Most of the criticisms revolve around the game's difficulty, and rightfully so, but just like with Battletoads, just because a game's difficult doesn't mean it's not fun. It had one of my favorite NES soundtracks, and it was decently playable. This game isn't Battletoads, though. It's not even Conflict Amphibians (because turtles are reptiles, not amphibians). It's a good game, but the Turtles control pretty stiffly, and there isn't much to break up the action, despite the neat overworld system that links the little mini-levels that make up the main game. It was a nice try, giving you little areas to explore for extra items, but the items didn't really include much other than pizza, which refills your life. This would be a blessing if it wasn't for the fact that these side areas were usually so goddammed hard that you'd lose more life getting in and out of the pizza areas than you'd get back from the pizza. Add that to the fact that you really only had two useful turtles, Leonardo and Donatello, and you'd have to choose between giving the pizza to them when they had a lot of health and giving it to Raphael or Michelangelo so they could continue being your hit shields, since you could only get turtles back after they died in one level. In fact, you know what? Fuck you, Teenage Ninja Turtles. I'm changing your score.
Retroactive Score: 6/10
Cadash (Arcade/Genesis/Turbografx-16, 1989, Taito)
Cadash is a weird game, a platform-RPG similar to Zelda II, but one which was made for arcades. It's fun, but ball-crushingly difficult. The game is based around a system of going into dungeons, collecting experience and gold, then coming out and spending it on items and equipment, just like an RPG, but it doesn't work out that well in-game. In my experience with the game (the Genesis version), the equipment you buy just barely keeps you up with the power of the enemies you're fighting, particularly the bosses, and even worse, the shitty healing items are outdated by the end of the first dungeon and cost far more than the equipment. Imagine if you played a Final Fantasy game and the only healing item was the potion, but they cost 5000 GP (or gil, or whatever) each, and they still only healed 50HP at a time, and bosses had regular attacks that did 25-30 damage every hit. On the plus side it's called the "medicinal herb" and WE ALL KNOW WHAT THAT MEANS! YEEEEEAH BOY! DON'T FUCK UP THE ROTATION! PUFF PUFF PASS! And so forth.
The arcade version is apparently even worse, because while the herbs are cheaper, they're also considerably weaker. In addition to that, for some reason the developers thought that making the game extremely fucking difficult wasn't enough, so they made the game timed. In order to continue playing the game, you had to go into shops and purchase magic hourglasses that extended the length of the game. This was awesome, because they kept becoming more expensive every time you bought one, until they literally cost half of the maximum value of gold the game could store. Keep in mind you had to buy these in order to continue trying to win; they didn't guarantee success or anything. In fact, they probably inhibited it, considering they were so more expensive than most of the other items in the game. It's like giving a loan shark all the money you have on you so he'll give you another 2 days to pay him the actual debt you owe him so he won't break your legs.
Score: 5/10
Cadash is a pretty average platform-RPG with some neat features. That's really just about all I have to say about it. However, I'm going to do a follow-up about it in another feature at some point. Or, just as likely, it'll be one of those things I promise and never follow up on.
Want to solve the mystery of the forthcoming Cadash article? Then stay tuned!
Or, if you don't, which is exponentially more likely, then I guess you can just keep checking back here. Or, you can take advantage of my new email and Facebook page subscription things on the right sidebar, which will ensure I won't even get any accidental visits from you! Enjoy!
Contrary to popular belief, I'm alive, and there's a reason I've been gone so long.
Well, there are several reasons, but among the most important ones is that I've been doing so many different things creatively. In the past year, I've written a script, part of a book, a bunch of skits, and an absolutely ungodly number of raw ideas, as well as two exhaustive studies of games I love (Chrono Trigger and Yume Nikki)… and that's to say nothing of the game I'm working on. I've had an enormously creative year, and I've enjoyed it.
Unfortunately, I just happened to lose my voice for this site in the meantime. I hated it, and it made me feel bad, but I couldn't force something that wasn't there.
That said, it's been coming back to me… and I think I'm gonna be a lot better at it now. I've learned a lot in doing all this writing, and one of the big things is how to be a bit more…. diplomatic, shall we say. I'm proud of the writing in this site's past, but I'm the first to admit it's been overly negative, and in fact, downright codgery. I've never been a very negative person, but I HAVE been a very negative writer, and I think a lot of that comes from having developed my sense of humor as a sort of defense mechanism; I learned that I could use wit like a blade to cut someone down, and as such, I wanted to use it to attack things I didn't like, in this site's case, trends in video games I didn't like. I still stand by most of the things I said I didn't like (pretentious arthouse games, MMOs, both Gears AND God of War, the Protomen), and I still feel as though I have rational, reasoned arguments against them. But the thing about negative articles is that, unless you agree with the opinion expressed (and sometimes even if you DO agree with it), you're not going to enjoy them.
Now, none of this means I'm not still gonna be kinda snarky and sarcastic; that's just core to my being. I'm just not going to dwell so much on things I hate. I mean, you have to admit, that's a pretty weird thing to do anyway.
Anyway, I'm gonna get started on my first article in almost a year. Hopefully it won't be awful.
I have been gone for sooooooo long. I won't bore you with details (personal life, and jetpacking over Europe), but I promise I'm going to come back and write more. Which I've done in the past and never followed up on, but still.
So what have I been doing in all this time?
I've put in a metric shit-ton of work on my game. I've been writing an update on it off and on, but I haven't finished it yet. This has been the most progress I've made on it since I've started, and I'm getting really excited about it. I also found an artist who is ridiculously talented, and that's helped a lot. You'll see some of her work in the next update (hopefully).
I've also been writing a ton of comedy sketches, which may or may not get used with something for this site. Sneak preview: one involves a man who finds out his girlfriend was just a bunch of dogs in a people-shaped suit, and yes, they're ALL that good.
Supposedly a podcast is coming soon. I know I've been promising that for like 2 years, but seriously this time (assuming I can get the people involved to, you know, be involved like they promised).
And, naturally, I've been playing a lot of games in what little spare time I have, primarily Prinny: Can I Really Be the Hero?, Sonic 4, Goldeneye: Source, and Twilight Princess, and yes, you read right, some of those games are recent.
So that's why this hasn't been updated in so long. I promise I haven't forgotten about it though; CNN fans (if any) can look forward to updates and probably some reviews coming up. I've been working on something for Goldeneye: Source and Sonic 4, so if that interests you, make sure to stick around.
Peace out.
Urban Champion (NES, 1986, Nintendo)
Ever heard of Urban Champion?
Probably not.
Well, Urban Champion was one of Nintendo's early NES games (you know, the ones that had little categories that indicated the genre). While Nintendo is now known for the awe-inspiring whimsy of games like Zelda and Mario, when the NES first came out, they emphasized creating straightforward simulations of sports just as much, and Urban Champion falls into this category. What sport is it simulating?
Street fighting. And I'm not talking hadokens and flash kicks. I'm talking about hardcore, American-style, brutal, "you just stole my last crack rock, I'm gonna smear your face in broken glass and leave your bleeding, mutilated corpse under the overpass" street fighting.
Well.. I mean, it's not that gory in-game. But I'm sure it would have been if they had the capability to do so.
There's really not much to Urban Champion. The objective of the game is to facefuck your opponent with your fist until he ends up falling into a sewer. That sounds like a pretty bad fate, and punching someone into a sewer is a pretty good way to win a moral victory. But this isn't Revenge of the Nerds. Your guy doesn't give a shit about humiliating a jock. He cares about beating his green haired twin to death as brutally as possible. Trust me, he's better off in the sewer. If that sewer wasn't there, you would simply beat him until he ends up a twitching, bloody mass with severe brain damage.
Or, you would, if the goddamn 5-0 wasn't always on your ass. If you stay in front of one store for too long, the owners will call the cops. When this happens, you drop your chunk of cinderblock and act like you just happen to be standing on the opposite end of the block from your exact double. Fortunately, you apparently live in Detroit, because the cops just drive on by, assuming that two conspicuous, brutally beaten guys who match the description phoned in by dispatch have just fallen down a flight of stairs, presumably into a pile of razor wire. They will, however, come back when your charge goes from "assault and battery" to "1st degree murder"; right before you can deliver the finishing blow, a police car pulls up and hauls your opponent away. This is a rough town, and it's survival of the fittest out there. If you can't survive a brutal, unprovoked beating, your ass is safer in jail.
Score: 5/10
Ehhhh.
Urban Champion is decently fun for a little while, but it winds up feeling more like a minigame than anything else. It's probably the most shallow game available for the NES, and considering the competition for that title, that's a pretty bold statement. In this age of free online games, Urban Champion could probably be fairly successful, especially if Nintendo applied a little more of its shine and wax service to it. But in the way it was presented, at the time it was presented, and most importantly at the price it was presented, there's no way to call Urban Champion anything but a ripoff.
But, since I'm trying to review it in a current context, I can't call it abysmal. When you aren't paying for it, it's pretty fun, albeit for just a little while. In particular, the 2-player mode can be pretty entertaining. Just don't expect more than 5-10 minutes of fun out of it. And don't be surprised if, upon losing, you end up murdering your best friend over a half-empty can of beer that's been sitting in a trash can for 4 days. After all, life imitates art. Just ask Jack Thompson.
I fully realize it has been a ridiculous amount of time since I've updated. The last 2 months have been completely absurd. I've lost a long span of time.
But, I swear I've been working! Just not on here. Most of what I've been writing is for another project that has been brewing in my head for a while. God only knows if I'll be able to actually follow through with it, but if so, I think you guys will really enjoy it.
Anyway, I'm gonna start writing an article for here soon. As in, after I finish this. With any luck it will be up in the next 24 hours.
Video games are generally considered to be a "safe" hobby. When we think of injuries sustained while playing video games, we think of blisters, muscle cramps, and, if you're in Korea, brutal murder by gang violence instigated by matches of Counterstrike or Starcraft or some other stupid bullshit. But people tend to forget that sometimes video games can cause serious injury can occur that ISN'T a result of Koreans being fucking ridiculous. For example…
Rotating the Control Stick in Mario Party
Mario Party was fucking awesome. There are still few games that can compare to the simple fun of getting a bunch of your friends together and playing minigames for coins. And then, in the end, you end up screaming "GODDAMMIT! WHAT THE FUCK IS A HAPPENING STAR?!? I HAD 8 FUCKING STARS AND I STILL LOST?!?" But, despite what you'd think, the most prevalent injuries weren't from strangulation among friends or electric shock after chewing through the cartridge trying to eat Toad's brains for giving someone who did really shitty like 10 FUCKING STARS AT THE END. No, according to this article, Nintendo received several complaints about kids who were receiving blisters and other injuries by spinning the control stick with their palms instead of their thumbs. Of course, this is the mainstream media we're talking about, so instead of reacting to this in a normal way, by saying "Ok, well, kids aren't doing this the way they're intended to, but Nintendo's fixing the problem by offering free gloves which prevent the injuries," they freak the fuck out and make shit up. For example:
"One kid got a tetanus shot," said Christi Pritchard, a spokeswoman for New York Attorney General Eliot Spitzer.
A tetanus shot? Jesus christ! Was the kid playing in a bucket of rusty nails? Also, note who she works for. I think if anybody needs to get a shot to stave off disease, it's probably her.
Another great line:
"The alarming thing was how little time some of these children spent playing the game before they were injured," Pritchard said. "One parent said their child had been playing the game for 15 to 20 minutes when they got a second-degree burn."
Heh, they'd probably be even more shocked if they knew that the "second-degree burn" the kid supposedly received (I say supposedly because I've spun the control stick enough times to know there's no way he could have caused enough friction to leave a second-degree burn unless he was some kind of cold-fusion powered robot) took place in the space of a 30-second long minigame. Those "rotate the joystick" style games didn't come up very often, and when they did, you never had to rotate for very long.
The problem with the article is the same as with any article about video games that appears in the mainstream press: apparently, journalistic standards just go out the window when you're writing about video games. There's no reason to do any research whatsoever; just copy and paste whatever press release the game company releases, then talk to outraged people who are just as fucking clueless and ill-informed as you are. Why should you have to talk to people who enjoy the hobby, or, god forbid, actually play the goddammed game? You're a journalist, your job is reporting news, not virtual game Natendos. Those will never be news-worthy!
CNET's poor journalistic ethics aside, you could really fuck your hands up on those control sticks. I got Mario Party for my birthday, and me and 3 of my friends sat and played it all night. It took us about an hour to figure out how much faster you could rotate if you did it with your palm, and once one of us figured it out, the rest of us had to do it to keep up. So, the next day, our hands were covered in blisters. It looked like we had been jerking off the Human Torch. Our hands hurt so bad we couldn't hold the controllers correctly. That didn't stop us from playing, of course. Mario Party fucking rules. At least, it does until Toad gives Donkey Kong 6 fucking stars at the end. He didn't even earn them, he's a monkey.
Virtual Boy Migranes
This one is a little harder for me to write about, because it's something I've never personally experienced. The Virtual Boy has always gotten a lot of shit because apparently looking at it for 10 minutes causes your brain to start bubbling out of your ears. Supposedly the headaches are so bad that no one can play the damn thing, except for myself, apparently. Tell me THAT shit doesn't sound like the premise for a cyberpunk movie: a virtual reality device which is so advanced (and yet looks so primative, like all the technology in cyberpunk movies) that no one can use it… except one man: Freddie Electric. Because when you're in a cyberpunk movie, you have to have a retarded name.
Anyway, when people played the Virtual Boy for more than a few minutes at a time, the red-and-black color scheme and lack of outside light apparently caused severe headaches and, in some cases, temporary sight problems. It really sucks, too, because the Virtual Boy was fucking awesome. Seriously, you guys have no idea what you're missing. Everybody always likes to beat on the VB because it was so "terrible", but really, I don't understand what was terrible about it. Most of the games were fantastic, and, except for the headaches it caused, there was really nothing wrong with the way it looked. I think most people who use it as a point of ridicule do so simply because they think it's an easy target, and I'd wager that most of the people who use it as an easy punchline have never even played it, or if they have, they haven't played it for long enough to give it a fair chance. Probably because of the headaches. Stupid humans and their inability to withstand a visual assault.
Controller-spinning Frenzies
Ok, this one is a little more abstract, because it's not really a video game injury so much as it is a result of childhood stupidity, but every gamer I know did it, so I think it deserves inclusion.
Few things hurt as much as an NES controller spun around at top speed. I know, because I got fucking hit with them all the time. Thankfully, I grew out of that really early, but I had the misfortune to have a little brother 6 years my junior who didn't. He loved to pick up my controllers and spin them around like a fucking lasso, and 9 times out of 10 this ended up hitting me right in the teeth. It got to the point where I knew exactly how much each controller hurt. The SNES controller has a smaller surface area, but is heavy and more compact, so the hits were harder. The N64 controller was chaos because it was so large, which lead to it being really hard to follow, which means it hit you more. However, the plastic was hollow, so it didn't hurt as much, unless you got hit with the memory card/Rumble Pak slot on the back. The worst was the PS1 Dual Shock, though, because it was big, heavy, and pointed. A hit by one of those to the temples would hurt for hours. Fortunately, as the older brother, I didn't need controllers to fight back with, because I could just punch him in the face, which was a lot easier and more efficient.
Of course, now most controllers are wireless, so this should be a thing of the past, right? Wrong.
Motion Controller Murder
With the new wave of motion-controlled systems, games are becoming more active than ever. This means that gamers are becoming more active than ever, and this can only spell tragedy. We don't know what we're doing when it comes to full-body movements, and Mountain Dew and pizza do many things, but they sure as hell don't push your body to perform at max intensity (well, they force your heart to perform at max intensity, but that's not quite the same thing). All of this shows, too; there are fully two websites dedicated solely to pictures and stories of horrific injuries inflicted by Wiimotes, and multitudes of pictures, videos, and one-shot novelty articles dedicated to the topic. A man went for a smash in Wii Tennis only to jam his hand through a glass lamp cover, shredding his hand to pieces. One woman gave herself a huge black eye before a series of job interviews, leading to her having to explain that she is not, in fact, being abused in her home life. Another woman killed her dog. Killed it! Just flat out. How do you throw a small, light piece of plastic hard enough to kill a dog? Is there some kind of slingshot-Wiimote game? Did she get hit by a bolt of lightning as it launched from her hand? Is she fucking Mileena? Or, with the Wiimote already killing animals, and both Microsoft and Sony introducing their own wholly derivative products, should we all run for the hills and pray that our new kitty-petting simulators and pretend handball games don't find and kill us? I, for one, favor the latter. At the very least, it will save us from how inevitably shitty Move and the Microsoft EyeToy will be.
I've had some really, really serious writer's block lately. Crippling. You think my writing is bad ordinarily? You should see how bad some of the stuff I've cranked out in the last couple of weeks is. And hell, even now I'm ending sentences with "is". What the hell is wrong with me?
I'm feeling better after this weekend, though. After the music article I wrote, I got invited to the OneUps Studios BBQ, and got to take a weekend off to relax, see an amazing concert, and talk to some awesome people. It was a little awkward, because I was a complete stranger to pretty much everybody there except for Mustin (who initially contacted me to invite me, and to whom I talked quite a bit before leaving) and Dale North (who I knew through an incredibly awkward apology I wrote him for something stupid I said in that same article). Still, even coming in as a complete stranger, I met some really great people, and had a lot of fun, even if I was a bit shy. Most of what happened probably wouldn't be that interesting to anyone but myself, but I did get some (poorly shot) videos of an amazing performance by the OneUps. Keep an eye out for those, they should be up soon.
I'll be back to writing soon, I promise. And it'll be something good.
Because I'm hilariously immature, one of my favorite things to do is color with crayons. I do it all the time, way more than I'd like to admit. And you'd think, as much as I do it, that I would be halfway decent at drawing. But you'd be wrong. I'm awful at drawing, and most of the things I come up with are so bad that they're an embarrassment to everyone involved. So, due to my masochistic love of making myself look stupid for your amusement, I have taken 3 of my recent drawings and viciously torn them apart, like a vindictive art critic, except that, unlike your typical art critic, I understand why art exists. So, we start off with…
Black Mage
One of my biggest problems with my drawings is that no matter how hard I try I can't seem to draw a person. I've never, ever, ever been able to get a regular human being's dimensions down. So, even when I stick to video game characters, I have to draw things that have the simplest shapes possible. So drawing a Black Mage from Final Fantasy should be easy, right?
Am I ever correct about any hypothetical questions? This looks like a racist depiction of a black guy peeking out of a blue sock. Anybody who is familiar with the series will be able to tell exactly what it is, but they'll also laugh at me and banish me from any groups they belong to. Also, check out this picture of this drawing before it was finished: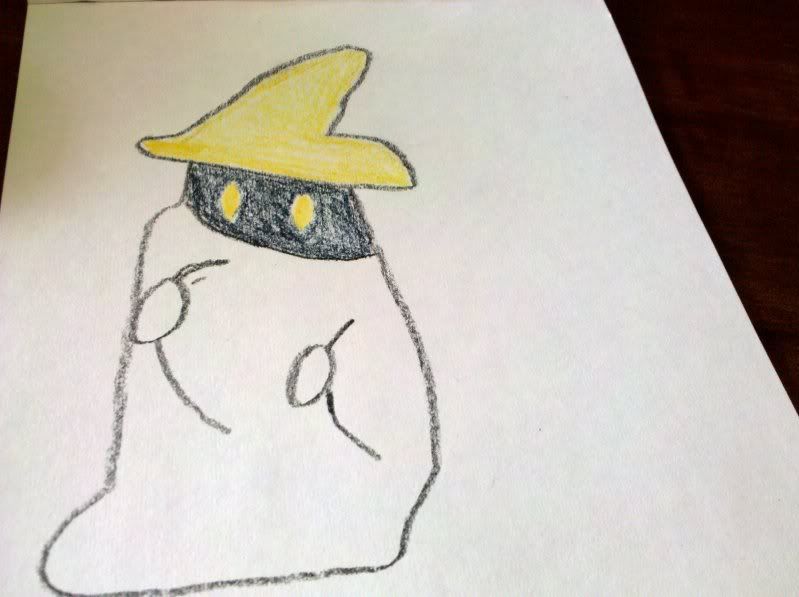 Here he looks like a sock with bodacious, if oddly angled, jugs.
Mallow
I just played through Mario RPG again, for like the 50th time. I think I may have beaten it more than any other game I own. I always feel kind of bad, because immediately upon gaining a 4th party member, I always take Mallow out of the party and he never ends up back in it again for the rest of the game. As part of this guilt, I decided to draw him.
I know he's a fictional character, and that moreover this is a crayon drawing that I made myself, but I can't help but feel like he knows how insulting this drawing is. It's like, he's smiling, but you know secretly he wishes he didn't look like a bizarre piece of popcorn with 2 club feet and an arm that was mangled in a factory press.
Magnemite
I looooove Magnemite's design. I like very simply drawn characters, and especially weird looking ones with one gigantic eye, and Magnemite fits the bill. Actually a lot of the Pokeymans fit that particular bill, but Magnemite probably does the best. But I've demonstrated in the past that I can't seem to draw even the simplest of things. Is this in that category?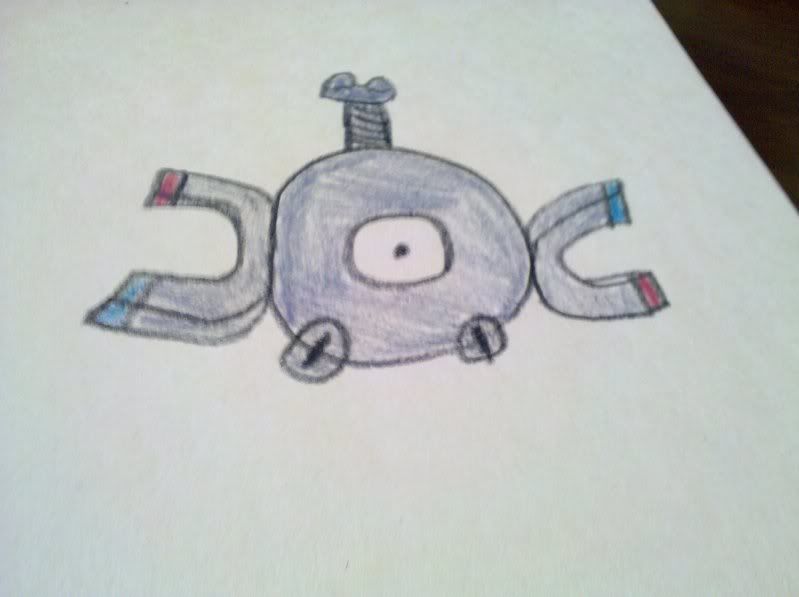 Actually, as far as my drawings go, I don't think this one is too bad. I mean, it has its problems, but it captures the essence of the original Pokemon. Right? Maybe not, those screws on the bottom look awful. But I still like my little electric-type, poorly-drawn screws aside. He is SO going up at my desk at work.
So that's really the best I can do. Any ideas as to what I should try to draw next?
This is going to be a quick post, but I just wanted to apologize to the Protomen. Apparently most of my arguments about their bad attitudes may have been wrong. Apparently they had a problem with their singer the night I went to see them, and the show that was put on was not their standard show. Also they apparently stayed around and ate cake with some people after the show. So there's that too.
That said, I'm not just giving in to please them or any other readers of my site. I still stand by my other fundemental problems with the band; they have nothing to do with Mega Man, and I'm still not a huge fan of their music or production (although the music isn't really terrible, just not my cup of tea). When I'm writing late at night (which is almost all the time) I have a tendency to be a little overzealous with my own arguments. So, I want to stress that I haven't changed my opinion of the group just because they posted a comment for me; it's really more related to the fact that my arguments were a bit unfair and inaccurate. To any new readers of this site, I would like to promise that this isn't the norm, mostly because my site is usually nothing but dick jokes and old video games. So, if you like dick jokes and old video games, stick around, because this party's just getting started! By which I mean it has started 2 years ago. And also by "party" I mean largely imageless text.