Goddamn,  I can't believe it's been a month.
Anyway, I've been chugging away at the game, mostly with behind-the-scenes stuff. I've been working on some different event-scripting skills with the help of the friendly folks over at RMVX. Sad as it is to say, considering how easy the engine is, I didn't really know what the hell I was doing beyond some basic stuff. Thanks to RMVX member Aindra's RPG School game/tutorial (the bunneh rocks), I've learned how to do a lot of basic stuff. Through practice I've actually gotten to the point where I can write my own cutscenes, which is good, because otherwise the game would have sucked. I've made a video on the Your Tubes internets website demostrating a little bit of what I learned (don't worry, it's spoiler free, not that you cared):
It's embarrassing to say that everything in this video took me about an hour to actually do. It's some fairly complicated scripting, though, and with what I've learned, I shouldn't need to take time out from story development to learn anything else for a while.
I've also updated my town, which you may remember from this post. In addition to some general updates and changes, I've also added an entire new part of town, which I haven't totally finished yet.
Here's the new northern side of town:
As of right now, the town is called Foxtrot, but that (as is everything) is subject to change. That big house up top belongs to a rich fucker who will be a catalyst for the beginning of the story. Other than that, there is an armor shop run by a paranoid old dwarf-man, and a couple of houses.
In addition to all this, I've completely finished all of the transfer events that lead to you actually being able to go inside of a building, which isn't a major step, but is necessary. Here's a piteous little aside regarding my skill as a "programmer": One feature of RMVX is the "quick event", which allows you to add a commonly used event quickly without having to actually add anything to it yourself. One of the quick events is the "door" event, which adds the graphic of a door, then the scripting to have it open upon touch. I added this event to every building in town, then went into the event scripting and added the locations I wanted to move to. This worked fine until I actually came back out, at which time, for some reason, the character would take a step forward, freeze, then teleport back under the door's graphic. I couldn't figure out why it would do that, because the character isn't literally coming out of the door, he just touches a tile from the inside of the building that teleports him back out. I worked for a fucking hour to realize that what I had done was I had added a transfer function at the end of the first page of events, which concluded with a switch which, when triggered, moved your character forward, then teleported him to a location that was supposed to have been chosen when I created the quick event. So, in effect, I caused this problem myself by just not paying attention, just like the time I crashed my car through a Walgreens because I hadn't noticed I had drank 28 beers. The cool side of this problem, however, is that I realized that, with a little modification, I could use that second page of events to make it look like the character was walking back out the door, which has already saved me a lot of time.
Now that I have all this mapping bidness finished, I'm going to move on to finishing the first part of the story.
Look for an update soon with my first dungeon. It will be drawn in crayon. I'm sure you can't wait.
Well, I've mentioned it to some people already, but on the off chance that the site is being read by someone other than a few of my close friends, I'll say it again: I'm making a game. I'm making it in RPG Maker VX. Yes, I know of the stigma associated with RPG Maker. I've worked with RPG Maker for somewhere around 10 years now, beginning with RPG Maker 95, and I can honestly say that, if you're looking to just write a game, like I am, it's phenomenal, because someone of my limited programming knowledge can make the game just about as complex or simple as they want. I still have trouble doing what I want here and there, but for the most part I can get just about whatever I want out of the system.
At the core, my feelings on game design are that it doesn't matter how complex the game is, you can still make valid, even exceptional art out of it. Case in point? Earthbound.
A quick history, for those disturbed individuals who are somehow uninformed:
Known as Mother 2 in Japan, Earthbound is an RPG centering around a boy and his friends saving the world, just like pretty much every other RPG of the era. However, that's where the similarities end. Instead of the same boring-ass fantasy setting every other game has (An aside: Final Fantasy is different. It's usually a steampunk environment. Steampunk rules.), Earthbound was set in a modern environment, a skewed interpretation of America called Eagleland. The main character, Ness, is a 13-year-old boy who has to fight furious cups of coffee and deranged mummies to defeat the personification of evil and his right-hand man, Ness's fat, cowardly neighbor, Pokey. The world of Earthbound is one in which you'll encounter aliens, ghosts, demons, zombies, possessed statues, and monsters, right alongside the more "mundane" aspects of life, such as deranged cops, angry old women, exorbitant resort town prices, demented hippies, cultists, and pizza delivery.
The Mother series is quite popular in Japan. In America? Not so much. The original game in the series was originally set to be released in America (also under the name Earthbound), but was cancelled at the last minute. Literally. As in, the game was fully translated, localized, put through Nintendo of America's censorship process, and even had a manual/strategy guide written. All that was left was to manufacture and ship the game. Then they decided, with the launch of the SNES in the same year, gamers would be too distracted to buy NES games, which is a valid concern, I guess, but considering that at the time Nintendo was sitting on top of a pile of money tall enough to be a hazard to aircraft, I don't think releasing a game that likely would have been at least a minor hit would be a huge hit to the Big N's profit margins, especially since most of the work was already done. For whatever reason, it wasn't to be, but in 1995, Nintendo decided to give the game's sequel a chance, and released it in America as Earthbound.
Nintendo has a reputation for snubbing Earthbound fans, but to be fair, they seemed to really try hard with the game's release in America, giving it a gigantic, attention-grabbing box, including a free strategy guide with every purchase, and using a novel print advertising method, including a scratch-and-sniff page and a $10 off coupon. Unfortunetly, this kind of backfired, and honestly, I can see why. They went for a gross-out angle, using the tagline "This Game Stinks", and the ads contained phrases like "not only does the game of Earthbound stink like some foul creature of the sewers…" and "burping, belching, gaseous monsters". I understand the gross-out angle, it probably seemed like it would work pretty well, if the target audience was the under-12 crowd (and also idiots), but mother of Christ, they made it sound like someone just shit in a box and included a strategy guide. I, however, was 7 at the time, so I unashamedly enjoyed the advertising.
Anyhow, the game didn't perform as expected, so NOA callously threw its hands up and said the game was dead to them forever. So far, across nearly 15 years of begging, pleading, and incredible displays of devotion, they haven't reversed their position. In the meantime, a remake of the first two games and a sequel, Mother 3, have been produced for the Game Boy Advance. Part of the leadup to both involved the tireless work of the ever-optimistic, incredibly dedicated Earthbound fanbase, centered around what is quite simply the most amazing fansite in video game history: Starmen.net.
Founded in 1999 (as earthbound.net) by Clyde Mandelin (Tomato) and Reid Young (Reidman), Starmen.net is more than just the regular Geocities fansite that you still see sometimes from that era, with dizzying parallax backgrounds and content stolen from various places. In fact, it has a tremendous amount more content than even any video game website I've ever seen, official or unofficial. Enormous collections of fanart, animations, music, comics, fanfics, and even entire fangames. Most interesting to me, however, is the enormous collection of articles. Themed around any number of things from the state of the community to theories about mysteries in the game to comedic essays concerning character relationships. (The article section, dear readers, is what inspired me as a kid to become a writer. In fact, were it not for this article section, it's possible that none of you would be forced to read this article as a polite favor to me right now.)
Perhaps most remarkable about Starmen.net, however, is the extraordinary work put into making the world (and NOA, especially) acknowledge Earthbound's greatness. Several letter writing, envelope art, and call-in campaigns (The newest iterations of which are still ongoing, and I suggest you participate), 3 petitions (1 with 1850 signatures, one with 10,013, and one with an amazing 31,338, including 1200 that were handwritten), interviews in several major media outlets, and, perhaps most representative of the what this community can do that others can't, the Earthbound Anthology, a gorgeous 268-page collection of fanart and information about the series and its seemingly cursed history in America. In addition to about 750 pages of art, it includes 6 CDs of fan-created music (SM.net's own Rock Candy series and the Bound Together project) and 2 DVDs of various clips (one featuring xfixjmg6′s /earthbound live action prank series and one featuring a select group videos from SM.net's fan videos section). This staggering collection, meant to represent the dedication, loyalty, and talent of the community, was sent to various media outlets, including EGM, Nintendo, Kotaku, Destructoid, and Gamespot, with the intent of creating an acute awareness of the series in the media which, hopefully, would lead to stories creating a big buzz around Earthbound's then-pending Virtual Console release (which is now, sadly, a lost hope).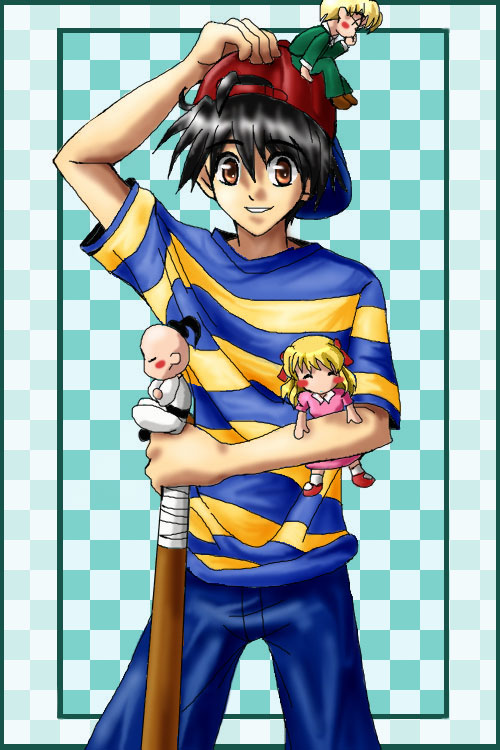 I would like to take this time to mention that, as a member of the press, I have not yet received my copy of the Earthbound Anthology. As a long time member of the Earthbound community, I feel that this wrong should be righted. I don't think the book should be withheld from me just because I'm not an "important" press outlet with a "large readership" or any "influence", or just because I have a "drinking problem" or "unpaid child support". I'm still a member of the press, dammit! I will have my book! Or, alternatively, I won't. It could go either way.
Now that you're essentially caught up on Earthbound's history, you might as well read the rest of developer's diary, assuming I ever finish it. It's related to Earthbound, because that is my primary influence in the game I'm making. If there's one thing I can draw on for inspiration, it's Earthbound. Case in point: all of the information in this article was drawn from memory. I've been fanatical over the series for nearly 14 years, so hopefully I'll be able to figure out what it is that makes the game so magical. Next entry we'll examine the game's essence. Ok desu ka?