1: Horace Belger (Final Fight)
Hooooooooooly shit.
Horace Belger is the leader of the Mad Gear Gang, best known as the only street gang to have every member murdered by the mayor. To cover for this, Belger pretends to be a businessman.
A handicapped businessman.

Yes, he pretends to be handicapped. And also, yes, that is a crossbow.
Horace Belger pretends to be handicapped so he won't get beat up. And really, what kind of ruse would work better? Imagine the news the night Haggar walked down the street and killed everybody he saw to save his daughter. "Well, if you're just joining us, Mayor Mike Haggar has ended his brutal killing spree by dropkicking paraplegic philanthropist and businessman Horace Belger out of a 40th story window." What if it was an election year? What kind of reelection campaign do you run? "Mike Haggar: Tough on Crime, Tough on Cripples." I don't think there's a spin doctor powerful enough to fight that kind of public image. The only way Haggar could save his incumbency would be to literally threaten the voters. "Vote for me, or… you're next."
Biggest Display of Dicketry:
Surprisingly, there is actually a worse fate than being known as the guy who pushed a crippled businessman out a window, and that would be to be known as the person who recrippled the recovered paraplegic. Sadly, Haggar has that as a bullet point on his resume as well. In Mighty Final Fight, Belger is a cyborg with robotic legs. To most people, that's just going to be how a rich man overcame his handicap after being defenstrated, but the truth is he just wanted a new way to fuck up Haggar's image. That's why he is truly sultan among assholes.
2: Fun (World of Warcraft)
This is another one of those creative boss fights you rarely see in games, like most of Shadow of the Colossus, or the battle against Giygas in Earthbound. Instead of just using the regular game mechanics to fight, the game requires you to rely on your creative senses to find a clever way to beat the enemy.
Because the core of WoW, of course, is mind-numbing, repetitive, tedious work, a lot of people don't realize that the true boss of the game isn't the difficult enemy they've right clicked on and watched the game fight for them 10 times a day for the past week. The true boss is fun. In your quest to destroy fun, you have to do the same 3 quests (kill mob A, run item A to location B, run item A to location B, C, D, E, and F, then back to A), over and over and over again, from different people and for different clothes. The objective, rather than to be a delivery boy or pest exterminator, is to bore yourself into a coma. Theoretically, once you complete enough quests, you'll either lose your mind or successfully conquer fun forever. So far, however, fun remains elusive. Well, for WoW players at least.
Biggest Display of Dicketry: Constantly tempting players with enticements of communication with other people and activities such as bowling. Only the most hardcore players can successfully avoid these lures by pooping in socks and never sleeping or bathing.
3: Blind the Thief (The Legend of Zelda: A Link to the Past)
This isn't a topic I like to talk about much so I'll keep it short.
I fucked Blind the Thief.
He disguised himself in the form of a girl, and I rescued him. We talked for a while, really got to know each other, and then we fucked.
Obviously, as I led him out of the dungeon, the light hit him, and he freaked out and turned into his real form. I scrubbed and scrubbed but I just wasn't getting clean. I've been in therapy for 4 years. And, of course, by therapy, I mean I became a raging alcoholic with repressed memories.
Whiskey makes the demons go away. I need a drink.
Biggest Display of Dicketry: He didn't call the next day.
4: The Latin Alphabet (Elmo's Letter Adventure)
The basic premise of Sesame Street, if you are unaware, is that terrifying monsters teach kids to read by entertaining them and talking on their level instead of talking down to them. Or, rather, that was the premise when I was growing up. Now the premise is Elmo, a monster with a sub-3-year-old intellect and a nonexistant grasp on the concept of the personal pronoun talks to kids like a dumber version of themselves and teaches them about basic concepts in a slightly condescending way.
Of course, this is incredibly successful with 3-year-olds, as a result of the fact that Fisher-Price keeps making more and more merchandise based on him. Elmo is like the Thomas Edison of toys, every year coming out with some ridiculously advanced new toy just in time for Christmas (although they're never as successful as the company seems to think they are), as well as a version of… well, everything. If it exists, you can get it with Elmo on it.
Tragically, this is true even of video games. Of course, that depends on your definition of "game".
I've never been one to mock edutainment games. Or rather, I am, because they offer easy laughs, but I understand that I'm not their target audience. However, I think there's a point to which even kids lose sympathy with a game's designer, and this game manages that difficult task.
Elmo's Letter Adventure is the story of Elmo's quest to identify and eliminate all letters of the alphabet. The alphabet, as you know, has a history of sinister behavior, from being used to write the letter ordering the Holocaust to a pending implication in aiding communication between terrorists on 9/11. Elmo recognized the threat of this standardized set of letters, and set out to eliminate them the only way he knew how: make a game so bad it would cause every generation after its release to stop learning the alphabet.
You have no idea how deep the letter conspiracy goes. They hide in plain site, as you can see here.
Sadly, even exposure to this sinister set of symbols allows people to learn them. For example, take this Amazon user review:
" THIS IS DEFINETLY JO GAME MAN!!!, December 14, 2005
YO DUDE, THIS GAME IS AMAZING. IF YOU DO NOT BUY IT YOU ARE TOTALLY WACK, BIG TIME. I AM 13 YEARS OLD AND I HAVE BEATEN TIS GAME EXACTLY 971….. WAIT….. 972 TIMES AND I LOVE IT. THIS IS THE BEST GAME ON THE PLANET "
As you can see, not only did they learn the letters, they learned only the uppercase ones. This increases the alphabet's potency over 9000%! As a result, the alphabet, no doubt in collusion with the Majestic-12 or possibly the New World Order (best known for its stint in World Championship Wrestling), continues unabated.
Biggest Display of Dicketry:
About halfway through, there's this little son-of-a-bitch run of letters called LMNO. I know the alphabet, as most people, through the alphabet song, so as a result, I thought LMNO was one letter until I was 15. Fucking pinko letters.
5: Cyberdemon(Doom)
Ah, the Cyberdemon. "A missile-launching skyscraper with goat legs," to quote the Doom II manual.
Essentially the boss of the second episode, the Cyberdemon really tested my mettle. I went into the battle with absolutely no clue how to beat it. It was so powerful; how could it be defeated? Still, I knew it was the only thing standing between me and freedom like 20 more levels of Hell. So, I did what came naturally to a hard-bitten, badass space marine with a big attitude and even bigger arsenal when confronted with a 10-foot-tall cybernetic goat demon with a rocket launcher arm: I pleaded for my life. Apparently the Cyberdemon is not the benevolent creature of mercy I thought it was. So, naturally, I decided to run away.
I ran through the level for about 20 minutes, and I never found a way back. I thought "I've got it! I'll wait it out. It can't live without food forever!" I found an alcove where I could hide safely, turned the monitor off, and waited about 6 days. When I came back, the Cyberdemon was still alive! I couldn't figure it out. "Buck up," I said to myself. "You need to be a man and take that thing on face to face." I knew the only thing I could do to defeat the Cyberdemon was to do what man had done since the invention of the flintlock rifle: try to reason with him. I straightened up, looked him right in the eye, and said "Now, I know we've had our disagreements, but I think we can talk about this like adults. Is there anything I can do that would end this interaction in a positive way for you?" He started firing rockets, so again, I ran away.
I had tried everything. I even tried calling the police; apparently "Moon Hell" is not a location our worthless police department is worried about, thank you very much Bill Clinton. Yeah, bust people just because they stockpile thousands of guns in a compound, but don't go arrest the giant cyborg goat devil that lives on the Moon in my computer.
Anyway, at that point, I was out of options. The only thing I could do was shoot myself with one of the 6 guns I was carrying. But, just as I had given up hope, I remembered I had an issue of Gamepro with a Doom feature! I viciously ripped through the pages like a dog until I found the one golden piece of information I needed: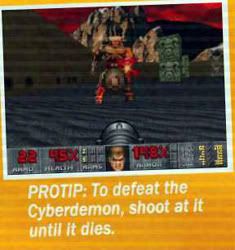 As crazy as it was, it sure beat suicide. I went out and tried shooting at the Cyberdemon until it died, and guess what? It died! One demon down, an unlimited amount more to go. Thanks Gamepro! Now if I could only figure out how to beat all the other enemies in the game.
Biggest Display of Dicketry:
I sent the Cyberdemon an email while I was hiding, and he never replied to me. What an ass! I mean, hello, he's a Cyberdemon. It's not like he doesn't know how to send an email.
6: Cowboys From Hell(Guitar Hero)
Yo, fuck Pantera.
This fucking song is singlehandedly the reason I can't say I've beaten Guitar Hero on Expert. Every other song, even the boring ones (Like Undone by Helmet), complete and few under 4 stars. But I absolutely, positively CAN NOT (that's right, I made the contraction an expansion) beat this fucking song. Really, the song as a whole isn't too hard; it's that fucking intro. nuhnuhnuhnuh nuhnuhnuhnuh nuhnuhnuhnuh NUHNUHNUH! If it wasn't for this part the song would be a breeze. The intro wouldn't even have to be that hard, they just made the decision to have it performed with hammer-ons. I've double, triple, quadruple checked the tabs for the intro on real guitar; it isn't played with hammer-ons. The only thing I can figure is that they mistook "hammers on" for "hammer on", and the original intention was for you to just randomly hit yourself with hammers, and no, I don't think that theory is contrived and hard to believe. Several times I have chosen hitting myself with a hammer over playing Cowboys from Hell, and each time it's slightly more pleasurable than actually playing the game.
Biggest Display of Dicketry:
The biggest display of dicketry in this case is certainly that it had to be a Pantera song. If I'm going to play a song over and over again until my hands contort into a shape not physically possible according to all known medical logic, I'd like it to not be about a bunch of hicks who like to pretend they're tough gay icons.
7: Mark "Super" Duper (Tecmo Bowl)
I enjoy getting into conversations about sports, mostly solely because my entire sports trivia knowledge comes from video games.
For example, thanks to the Greatest Sports Game Ever(tm), Tecmo Bowl, I know that the Miami Dolphins were completely unstoppable in the 80s and early 90s. I know that Dan Marino could throw a football from one stadium to another in a different city. I've learned that all cheerleaders are horrible, monstrous challenges to God's rainbow promise to love everyone.

It's sad when Aerosmith presents a sexier halftime show.
However, the main thing I've learned from sports games is that Mark Duper could outrun Jesus.
Together, Dan Marino and Mark Duper were dubbed "The Touchdown Factory" by me, age 8. Mark Duper was untouchable by the defense because he could run so fast he would ignite, leaving only a trail of melted astroturf and dead blockers behind him. Combined with the fact that Dan Marino could throw a 100-yard pass, it literally would have been possible to win games with just those two players.

Get used to seeing this if you're playing against the Dolphins. You'll end up on the floor in a fetal position repeating it.
One time, while I was in high school, I played a game of Tecmo Bowl against a friend of mine. As is par-the-course with sports games, he began trash talking. I don't know what a "quarter-back" is, but apparently mine was not good enough to eclipse the accomplishments of his "unstoppable Indianapolis offense". Had he ever even heard of football? Everybody knows Indianapolis is the worst team in the NFL, and I don't know who "Peyton Manning" is, but he's certainly not Chris Chandler. He continue by saying his "pre-call snap audibles" were going to destroy me. I said "Listen buddy, I don't know what that is, but unless you've got a Game Genie hooked up to this motherfucker, your team doesn't have anything that can 'destroy' my team. You've only got 4 attacks, and all 4 leave the team unharmed. But you'd better get ready for my unstoppable 'pass 3 run 1′ combo, BITCH!"
I beat him 64-0.
So it's been established that Mark Duper is unquestionably the greatest football player ever, as well as the fastest living creature ever. But how can I consider him a boss? Well, simply put, if you're playing against the Dolphins, you're going to lose. It's as simple as that. But, a secret not many people know about is that if you manage to beat the Dolphins (which of course can only be done by cheating and playing as the Dolphins), the rest of the team combines with Duper to form the unstoppable Robo-Duper. This metal-and-flesh behemoth tramples over everything in its path, and victory over it is impossible. This only happened once in real life, during the Dolphins 1989 season. It took the Air Force 2 weeks of nonstop carpet bombing to stop it, and America lost its first city: Baltimore.
Biggest Display of Dicketry:
Thanks to this article, I can no longer get away with picking the Dolphins when playing Tecmo Bowl with friends. Thanks a lot, Mark Duper.
Well, the first part of this article seemed to go over quite well with all three people who read the site, so here's part 2.
8: Death (Castlevania)
Everybody knows how much of a cock Death is. He hides in the shadows, always waiting for us. He took John Ritter from us one cold September morn. He wears a gay cloak that thousands of goth kids try to imitate. It should just be obvious that he's an asshole as a boss, too.
And he is. Oh god, is he ever. His attacks vary from game to game, but he always makes sure to cause floating scythes to materialize and hit you ALL OVER THE GODDAMN SCREEN. These later become heat-seeking floating scythes. I mean, I get it. He's Death. Great! Does he have to be such a dick about it?
Of course, these are the least of Death's problems. While Death is frequently featured on "hardest bosses" lists, he's never cited for his most serious crime.
In Symphony of the Night, Death is the first of Dracula's cronies you meet. He materializes and gives a short speech giving Dracula's kid Alucard a chance to turn back, since his dad is Death's best buddy. When Alucard refuses (which is pretty ballsy considering he's talking to the biggest mass murderer in history), Death disarms him and strips all of his clothes off.
Death is a child molester.
Biggest Display of Dicketry:
Well, outside of the fact that he violated his best friend's kid like a hillbilly in a bowling alley bathroom, I'd say probably the worst thing about Death is that he's one of the last bosses you fight. It seems like it'd be a lot easier if you could just kill Death and be completely unstoppable for the rest of the journey. Then again, I guess nothing else would die either. But then, they're undead, so how does that work exactly?
Scratch that.
Death's biggest display of dicketry is creating confusing logical and philosophical problems.
9: Tie – Vega and Balrog (Street Fighter)
Street Fighter was always full of assholes. You had Sagat, who would not just laugh, but cackle at you if he won, like you had just slipped on a goddamn banana peel. There was M. Bison, who had godlike Psycho Power and basically just used it to tackle people from a few feet away. There was Chun-Li, who was a woman. But none of them came close to Vega and Balrog, the Laurel and Hardy of douchery.
These two dick whistles were basically M. Bison's elite guard, there to stop you from getting to Sagat, who was ostenably there to protect Bison, but was really there to antagonize Ryu. So, perhaps to compensate for having such a useless job, Balrog and Vega became obnoxious cocks.
Balrog, the first of the Dickwad Duo, is a boxer who absolutely does not look like anyone currently boxing professionally.

No resemblance to anyone, as you can see.
His punches do a ludicrous amount of damage, he's fast, and I'm not good with distances, but I estimate his arms to be at least 8 feet long. What makes him such an asshole is that he's the only character in any Street Fighter game, and possibly the earliest AI-controlled character ever, to literally showboat before he kills you. In the original arcade version of Street Fighter II, once you get down to a low amount of health, and especially if you're dizzy, Balrog will use his dreaded Turn Punch to finish you rather than a regular attack. The Turn Punch is one of the most damaging moves in the game, doing up to 50% damage if charged enough. Also, it's a totally asshole looking thing to do, as he turns around and stands there holding his arm back before he actually hits you.
Vega, on the other hand, is a lithe, effeminate prettyboy whose entire play style is based around poking you in the chest with his claw. Sometimes he'll jump and poke you, other times he'll duck and poke you. One way or another, he's going to poke you, and yes, I do know that sounds totally gay. That's because Vega is totally gay. To illustrate this, here's a list of quotes from Vega that I would say were taken out of context if there was a context to begin with. Try to read them as a narrative:
"I contribute to society. I remove all its filth. Got a gripe with that?"
"So, answer me. Just who is the fairest of them all?"
"Praise me! Extol me! My beauty is unparalleled!"
"This room is bland…I know. I'll use you to paint it red!!!"
"Vega says scream!"
"Mmmh…Tasty…Just like red wine…"
"Your cries of agony… They are music to my ears."
"Handsome fighters never lose battles."
"And just how long did you think I would be satisfied serving the likes of you?!"
"Your moment spent with beauty is now over….Adios!"

Vega, pictured trapped in a whirlwind of homosexuality.
So, as you can see, that's concrete evidence he's gay. In addition to having sex with men, Vega also enjoys climbing the walls, jumping around, and generally flipping out. There may be harder opponents in Street Fighter, but none infuriate you quite as much as Vega.
Except maybe Cammy.
Biggest Display of Dicketry:
For Balrog, probably the biggest dick thing he does is denigrate Mike Tyson. He seems to hint at rape, he's violent, he's crazy, he has a gap in his teeth, he even threatens to bite his opponent's ear. Come on, Balrog. The guy's been through enough.
With Vega, it's almost hard to decide. He has a lot of dick personality traits, an entire bag of douche, one might say. Blood fetishism, narcissism, arrogance, murder, insanity… still though, I would have to say the most asshole thing about Vega is that stupid climbing attack he does. I hate that fucking move.
The boss is a vital part of single player gaming. For many games, the boss is the only part of the game that comes anywhere close to being a match for playing against another human. The boss represents the ultimate challenge in a game, the last obstacle in a long road toward saving the princess/city/world/precious, precious gold. Often, the boss is fighting for money, revenge, or just some sweet, sweet poontang. That said, some bosses are just total assholes. Here's a list of the worst offenders.
10: Elec Man (Mega Man)
One might say that I can replace Elec Man with, oh, say, literally any robot master in Mega Man 1-9, Dr. Wily (or any variant thereof), Proto Man, or even some of the regular enemies from the series (those goddammed robot birds or the Big Eye [this guy:

] come to mind), but Elec Man really goes over the cliff in the asshole department.
Even before you reach him, Elec Man is going out of his way to piss Mega Man off. Unlike most of the other enemies, he doesn't seem to be trying to kill Mega Man, he just wants him to be really frustrated when they fight. Elec Man's tower is full of 70 foot tall ladders, and little switches that deliver a mild electric shock that causes the Blue Bomber to plummet all the way to the bottom of the chamber he just spent the last hour and a half climbing to the top of. He also converted most of his Roombas into little Battlebots (remember that show? Me neither.) that, while they don't do much damage to Mega Man, are extremely difficult to hit and can only be briefly frozen rather than killed, and as a result tend to knock him off of platforms. Throw in the dreaded disappearing blocks, and you've got Mega Man's equivalent of spilling hot coffee on your dick while stuck in a traffic jam.

He even looks arrogant.
Keep in mind, by the time Mega Man has reached Elec Man, he's been shocked, shot, pushed off of platforms, trapped, stabbed, and is just generally pissed off. To top it off, the last part of the stage, rather than being a simple walk through a door like most bosses, is an arduous climb up the longest ladder in the game, chock full of electric switches and floating robots, and when you fall, not only do you have to start the climb over again, but you usually end up getting hit several times on the way down. When he finally gets into the little garage Elec Dick lives in, staggering from low health, all Mega Man wants to do is hit him a couple of times with the weapon he's weak against and leave. No such luck. Elec Man's weakness is the Rolling Cutter, which, due to the change in the angle it comes out at while jumping, is nearly impossible to hit someone with without getting hit. On top of that, Elec Man jumps around like a 5-year-old on meth, flipping back and forth and shooting enormous bolts of lighting at you that take out roughly 1/5th of your total health. With most bosses, if you're low on health when you go to fight them, you can just die and start over with full health. With Elec Man you have to climb the Hell Ladder every time before you even get to him, so you'll probably only have half of your health bar, which he'll quickly reduce to nothing. Not that he really cares if you die, mind you, he's just really more worried about pissing you off, and if straight-up killing you is a way to do it, then he's willing to give it a try.
Biggest Display of Dicketry:
After the first portion of climbing, there's a large energy power up in a little alcove directly across from a large pit. By this point, you're probably pretty low on health, and it looks perfectly reasonable to jump over, get it, and jump back. When you actually get to the platform, however, you realize you're hopelessly, hopelessly fucked. The roof over the alcove makes it exceedingly difficult to jump back out, and if you can't make it, you die instantly. It's kind of akin to hanging a carrot in front of a horse, except instead of leading the horse around with it until he catches it, you lead him into a furnace.